The past few days have been great! Monday, Mike and I went to the gym. I did 25 mins on the eliptical and then we walked a few laps around the little gym track. We then went swimming for a bit and topped it off with a little hot tubbing.

I've been tracking my food with an app on my phone. I have Android technology on my cell phone and the app is called Calorie Counter. It's pretty cool. It even has a barcode scanner, where I can scan the barcode of the food I'm eating and it will input it right into my food diary. Very handy. I also have an iTouch and I used to use the app called Tap n Track. I like that one better but it doesn't have the bar code scanner.

Today, I did tons of house work and then did 20 mins on my treadmill. Mike started P90X today. It kicked his butt. I want to do some of the workouts with him. Maybe tomorrow. Mike's blog <----here's a link to his blog. Check it out! He needs some blog buddies too!

I weighed in today, I'm down 20 pounds! :-) My 2nd fill is scheduled for next Wednesday (4/14/10).

The weather has been pretty stormy lately. Spring is coming in like a lion, but hey, at least it's comin in!!



Does anybody take frozen dinners to work for your lunch?? I do. I recently discovered Kashi's frozen dinners. They are a little more pricey than the Smart Ones I usually get, but they are totally worth it. Each entray has almost 20 grams of protein. 20 grams!! Also, they're packed with fiber and whole grains. Sounds like the perfect bandster food to me! I'm currently enjoying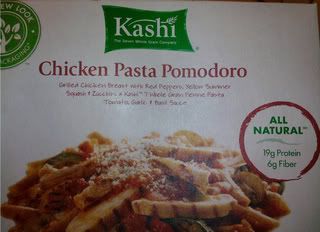 Ok so that came out huge, but I don't have the energy to fix it. Well, better get back to work. 6 hours left, then it's 2 more days off with the hubs. YAY!